JA Inspire® Advanced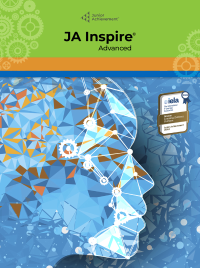 Implementation:
Classroom Based
After School
Virtual
Pillars of Student Success
Work Readiness
High Work Readiness
Financial Literacy
Minimal Financial Literacy
Entrepreneurship
Minimal Entrepreneurship
JA Inspire
Advanced is more than a career fair: It brings together the business community and local schools and is designed to help launch teens and young adults into their future—postsecondary education and their careers. The program consists of three segments: (1) pre-event career-oriented sessions; (2) the
JA Inspire
event, and (3) a post-event reflection. The
JA Inspire
event (in-person, virtual, or both) provides participants a powerful way to learn about real-world career opportunities and their local economy.
JA Inspire
in-person events are multi-hour experiences where participants interact with company representatives and participate in hands-on activities, often using equipment or tools used on the job. VFairs, the online interactive platform used to host the
JA Inspire
virtual events, provides a visually rich virtual environment that mimics the dynamics of a physical live event. Here participants attend webinars and presentations, explore company exhibits, and interact with company representatives.
Following participation in
JA Inspire
Advanced, participants will be able to:
-- Gain insight into career clusters that interest them.
-- Make connections with adults who have jobs in careers that interest them.
-- Recognize traits of their local economy.
-- Collect information about the education and training requirements to be successful in a job.
-- Practice soft skills.
JA Inspire
is part of the JA Work and Career Readiness Pathway and is recommended for high school students (grades 9-12) and youth 18-25. It has multiple curriculum implementation options: fully teacher-led, fully self-guided, or hybrid with classroom introductions and talking points for all self-guided sessions. A Spanish translation is available.
As part of this program, JA teachers and volunteers are encouraged to use the resources available in JA Connect® Learning Pathways, located at https://connect.ja.org/. This self-guided experience includes interactives, JA Here to Career™, and games and apps for participant use.
JA programs support national and state standards in reading, mathematics, social studies, and work and career readiness. See below for more information on alignment with national and state standards.
Alignment with State and National Standards
Request a Presenter to Teach Curriculum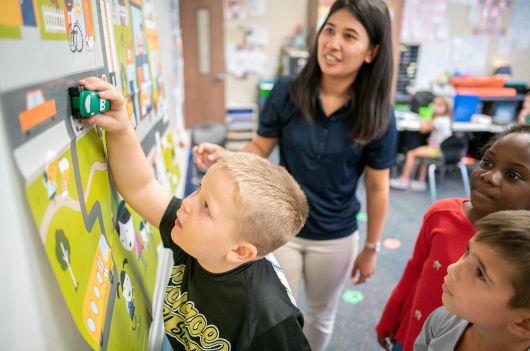 Junior Achievement lessons are delivered by volunteers from the community. These presenters are prepared by JA to facilitate engaging learning activities that focus on financial literacy, work and career readiness, and entrepreneurship. This results in an enriched learning experience that helps students make the connection between what they learn in school and the world outside the classroom.
Steps to Request a Presenter

1) Request Info
Once you've decided to have a JA volunteer in your classroom, fill out the form on this website. You will receive information on next steps.
2) Pick Schedule
You will be able to coordinate a schedule that works for your class either online or in conjunction with a JA representative.
3) Meet Presenter
Once a volunteer is identified for your class, JA will connect you with the presenter to discuss roles, expectations, and logistics.
4) Empower Students with Standards-Based Education
After all details are in place, the JA volunteer will deliver lessons to your students either virtually or in-person.
We use cookies to provide you a personalized experience. How we do this is by analyzing user behavior on our site and sharing data with our advertising and analytics partners. You consent to our cookie policy if you continue to use this website.